from guardian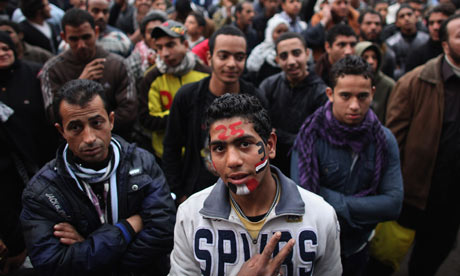 8.48am: Welcome to Middle East Live. Dozens of demonstrations are planned in Egypt to mark the first anniversary of the revolution that toppled president Hosni Mubarak. Amid a heavy security presence the protests are being held to express opposition to the ruling military junta. Jack Shenker and Abdel-Rahman Hussein in Cairo will be providing regular updates through out the day.
Here's a round up of the latest developments in Egypt and elsewhere in the region:
Egypt
• Activists have established multiple starting points from which scheduled marches will set out towards Cairo's Tahrir Square, Ahram reports. The day is expected to witness dozens of separate demonstrations, in which participants plan to hold up pictures of slain activists, Egyptian flags, and lists of outstanding revolutionary demands, it says.
• The head of the military junta, Field Marshal Mohamed Hussein Tantawi, has promised to partially lift the country's three-decade-old state of emergency, in a last-ditch effort to bolster public support ahead of the demonstrations.
Human rights campaigners said the law remained in place because police were still allowed to detain anyone suspected of thuggery. Meanwhile, security measures were ramped up at government buildings as Egyptian authorities braced themselves for what is expected to be one of the biggest outbreaks of popular unrest since the fall of Mubarak on Wednesday.
• The Egyptian revolution is like the Nile in flood: try keeping that back with barriers and uniforms, writes novelist Ahdaf Soueif.
The revolution, which began a year ago on 25 January, has gone everywhere. It has raged and tiraded through some spaces, flowed steadily through others, and seeped into yet more. There is nowhere, nothing, nobody who has not been affected by it.

As the People's Assembly convenes and the Supreme Council of the Armed Forces (Scaf) plots, the revolution continues along the pathways it has created and carves out new ones ...

Nature acts to redress an imbalance that has become dangerous. Only this time nature was human: a flood of people who left their homes and walked peaceably into the squares of their cities to say "no more". No more military rule whether clear or hidden, no more emergency or repressive laws, a restructuring of the police and the security apparatus, the freedom of political prisoners and civilians subjected to court martial. The cleansing of the judiciary. No to corruption. Yes to human rights. And a rearrangement of the economy to privilege the majority.

Parliament, as the elected legislative body, can start delivering on a lot of these. If the military allows it. Or if it gets rid of the military. What will become clear over the coming few weeks is how far parliament – or sections of it – will align itself with the aims of the revolution.
• Egypt faces an acute financial crisis that could undermine its political transition, the New York Times reports. Activists focused on forcing Egypt's military rulers to give up power say the economic malaise has become a major obstacle to their cause because so many Egyptians have come to crave a return to stability.
• Two of Egypt's best known activists Gigi Ibrahim and Mosa'ab Elshamy, tell the New York Times of their frustration at the lack of genuine change. "Really, what we have achieved was only just to topple Mubarak; we have Mubarak's generals running the country," said Ibrahim. Elshamy, who was arrested at a protest in May said "what I saw in prison made me feel more determined."
• Britain, the US and France are seeking Russian support for a new United Nations security council resolution to endorse Arab demands that Syria's president, Bashar al-Assad, step down. Western countries have, in effect, abandoned attempts to impose UN sanctions on the Assad regime and are hoping for a new consensus for based on an Arab League timetable for a transition of power.The secretary general of the Arab League, Nabil al-Arabi, and Hamed bin Jassem AlThani, the Qatari prime minister, are planning to brief the UN secretary general, Ban Ki-moon, in New York in the next few days.
• Barack Obama used his state of the union address to warn Assad that he cannot resist the "wave of change" that has swept across the region.
I have no doubt that the Assad regime will soon discover that the forces of change cannot be reversed, and that human dignity cannot be denied.

How this incredible transformation will end remains uncertain. But we have a huge stake in the outcome. And while it's ultimately up to the people of the region to decide their fate, we will advocate for those values that have served our own country so well. We will stand against violence and intimidation. We will stand for the rights and dignity of all human beings –- men and women; Christians, Muslims and Jews. We will support policies that lead to strong and stable democracies and open markets, because tyranny is no match for liberty.
• Peter Harling from the International Crisis Groups highlights the collective failing over Syria in an excellent analysis of the crisis in Foreign Policy magazine.

If this impasse endures any longer, the struggle could quickly mutate into an open-ended civil war. Although the regime bears most of the responsibility for bringing the situation up to this point, the international community and exiled opposition have no excuse for moving it further along this terrifying path.
• Elders in Bani Walid said they were appointing their own local government after fighters opposed to the National Transitional Council seized control of the town. They denied claims they were loyal to Muammar Gaddafi, and there were no signs of Gaddafi-era green flags, which witnesses earlier said had been hoisted over the town.
Israel and the Palestinian territories
• An Israeli military court has ordered the speaker of the Palestinian legislative body to be jailed for six months without trial after he was arrested at a checkpoint last week. Aziz Dweik, a member of Hamas and a senior elected politician, was imprisoned "without charge or legal justification", a statement from his office said. It claimed Israel was attempting to thwart moves towards reconciliation between the rival Palestinian factions Fatah and Hamas.

• The trial of a television executive on morality charges for airing the award winning Iranian cartoon Persepolis, is a relic of the despotism that Tunisians protested against, according to Human Rights Watch. The broadcast led to protests in Tunis because it contained a scene depicting God. Now Nabil Karoui, director of Nessma TV, will go on trial in April 19 for airing the film.
9.27am: Excitement is building in Egypt.